Located on the scenic McDonough, Georgia, CoreLife Holistic Wellness is a Woman and Veteran owned business dedicated to guiding you along the path to wellness. You will be welcomed as a part of our wellness family.
At CoreLife Wellness be prepared to receive only the finest quality care from a true Naturopathic Doctor who uses modern holistic non-invasive approaches in technology. Which may include nutritional testing method, therapeutic and targeted rebalance programs.
Don't Schedule a Surgery for your Shoulders, Knees, Hips, or Spine before seeing us FIRST!
Providing optimal healthcare for the treatment of recent onset of pain or chronic pain syndromes; post-surgical; auto, work and sport related injuries. We focus on all aspects of Pain & Weight Management utilizing the specialties of Naturopathy Care, Nutritional Response Testing (NRT), MyoKinesthetic (MYK) Therapy, Massage Therapy, and Health Wellness Coaching.
---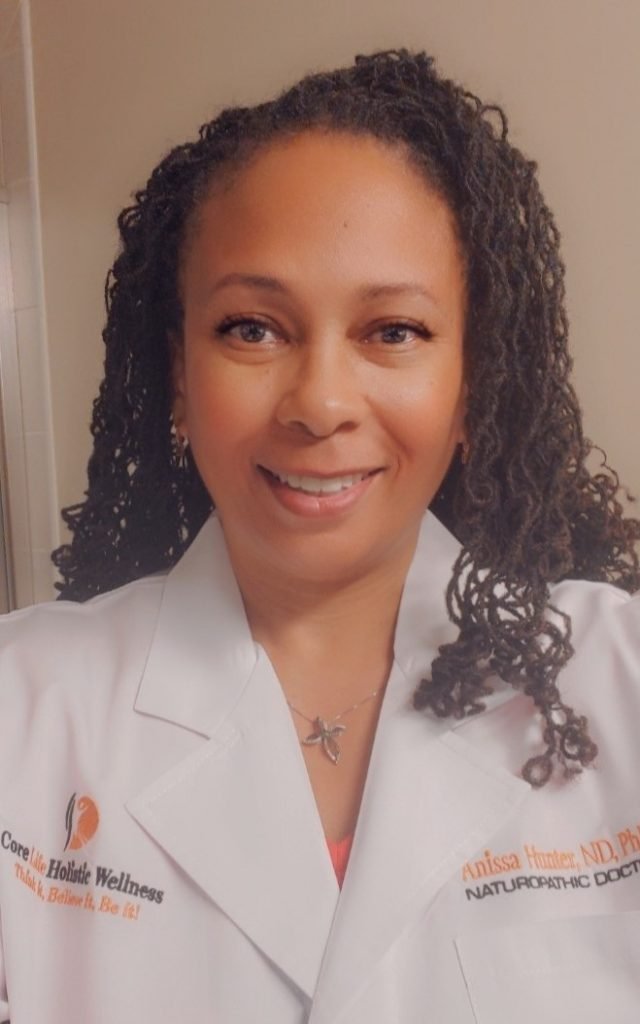 Dr. Anissa Hunter, Phd, ND, CN, MH, LMT
A McDonough-based holistic Naturopathic Doctor and a female veteran which has over 15 years of experience providing holisitic care. Dr. Anissa is passionate about improving the health of the community. She will address your needs holistically while identifying the root cause of your health challenges. She will guide and empower you in your journey to a healthy lifestyle to help you reach your maximum potential.
Specializing in Pain & WeightManagement, Diabetes, Prediabetes, and Women's Health. She can help your entire family in attaining and maintaining total health holistically through, nutrition, exercise and wellness lifestyle choices!
---
Nurse Darcell Hill, RN
A Holistic Nurse that focuses on Wellness Coaching and Nutrition. Nurse Darcell has an extensive background in nursing, nutrition which she assist patients mindfully of how you "Feed" your body, through all 5 senses (visual, audio, tactile, taste, or smell) can directly effect what is manifested in your reality, physicality (health status), mental state (mental stability), emotional state (emotional balance), and spiritual state (spiritual awareness.
Nurse Darcell has been a Critical Care Registered Nurse for 11 years and her experience includes being a Travel Nurse in multiple Intensive Care Units. She has also has experience Long-Term Care Field Assessments, Telephonic Condition and Disease Case Management Nursing and currently Utilization Review Case Management.
Your health and the health of your family is of paramount importance to me and CoreLife Staff. We look forward meeting you where you are with respect for your history on your path to wellness.
---